Apply Penalties
This function applies the penalty to past due balance accounts based upon the rules established in the Services table to the accounts selected by the user. To accomplish this, the system creates an adjustments batch to create transactions for each customer account.
Step 1

Double click on the MasterTrak Utility Billing icon on the desktop.
Step 2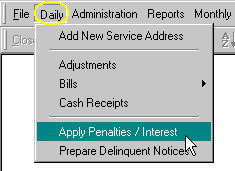 At the menu on top of the screen, click on the Daily menu option. Scroll down to the Apply Penalties/Interest option and select it.
Step 3
Enter the fields requested.
Apply: Select Penalty.
Process Date: Enter the process date for the adjustments batch.
Billing Group: Enter the billing group from the list provided.
Select By: Select Book Number or Final Accounts Only. If Book Number is selected, the system will display the list of books. If a book does not appear on the list, it is because the flag indicating penalties have already been applied for that book is checked. This flag is maintained on the Book Billing Group table.
Cut-Off Date: Enter the cut-off date for calculating the customerís current balance. The system will calculate the balance as of the cut-off date and then subtract any credits after the cut-off date.
Batch ID: Enter the Batch ID for the adjustments batch. The system will automatically generate unique batch ID, but the user may over-ride it.
Post Month / Year: Enter the post month and post year. The system will default to the current post month and year.
Step 4
Click the

button. The system will create an adjustments batch. Upon completion the system will display the adjustments batch.
Step 5
Click Print Journal on the batch header window. This will print a detailed journal of the penalties. A general ledger summary distribution journal is also prepared.
Step 6
To post the penalty adjustments to the customer accounts and the general ledger, Click Post Receipts on the batch header window. When posting procedure is completed, the system will display a message.