Customer Correspondence
Menu Path: Customer > Correspondence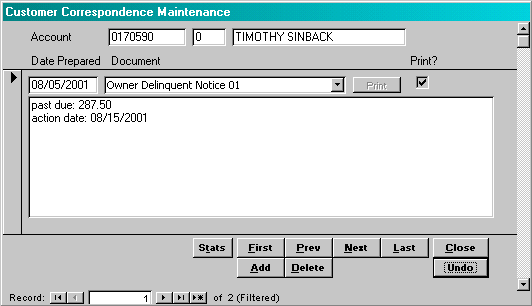 This table maintains a record of correspondence prepared for the customer. The correspondence can be prepared in two ways. First, the Delinquent Notice process automatically creates a record in the correspondence table. Records for this table are also created when the user generates standard letter. Both of the alternatives create letters using the Mail Merge feature of Microsoft Word. In this manner, the user has complete control over the format and content of the documents generated.
Date Prepared: This is the date the letter was prepared.
Document: This is the document that was prepared. The user selects from a list of documents that are maintained on the Correspondence table.
Print?: If the document selected is a standard letter and not a letter generated from the Delinquent Notice Process, the user may reprint this letter by checking this box and then selecting the

button.